Deciphering invoices causes headaches for many companies. This handy guide will provide some clarity

Wouldn't it be great if shipping invoices were crystal clear and contained 100 percent of the relevant information? It seems like such a basic idea, but if simplicity were the norm, then more companies would have a firmer grasp on their shipping process and a lot more control over their expenses.

Things get so complicated that UPS and FedEx had to issue how-to guides on unraveling their invoices. Since it's our job to clarify the entire shipping process for our customers, we've spelled out all the key factors here.

Deconstructing FedEx invoices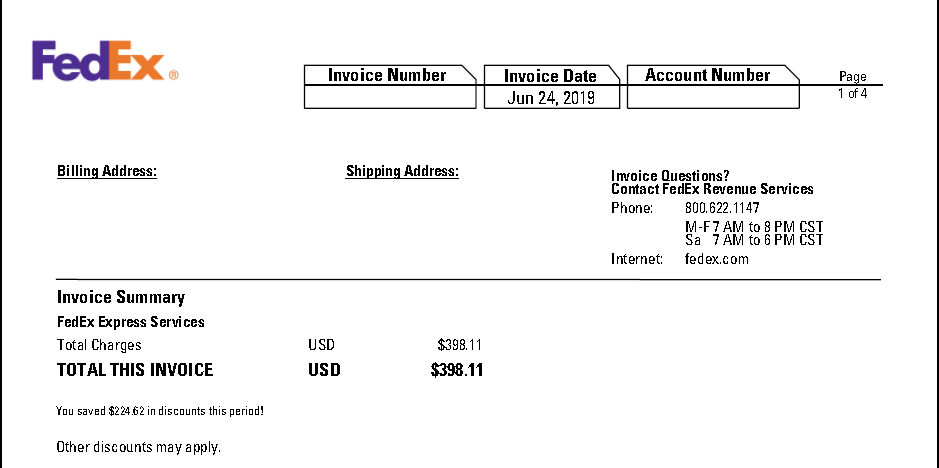 FedEx invoices come in several forms, from standard freight to customized options:
Freight

– This is the default invoice that most shippers will be familiar with. It contains the package's shipping number – aka the Air Waybill number – ship date, weight, taxes, total charges and payment terms. The Proof of Delivery data (printed beside the total due before tax) is important here – the time the package arrived could determine whether the company does or doesn't get a refund.
Duty and Tax –

The Duty and Tax invoice details the import clearance charges and any additional charges incurred in the destination country billed to the company on a Bill Shipper, Bill Consignee (person to whom the carrier is supposed to deliver the goods) or Bill 3rd party basis.
International Consolidated Parent and Child –

The ICPC option is better suited to customers with multiple accounts looking to consolidate their billing activity into one account and invoice (termed the "parent"). ICPC provides a summary of shipping activity by account number and the associated shipment details.
Summary and Detail/Summary and Detail Sort by Reference –

This format splits the invoice in two – a summary of all shipments and the shipment details, as seen on a freight invoice. There's also the option to group and sort by reference, which FedEx feels is useful when multiple departments all share the same customer number.
Summary Only –

The simplest of all the invoice formats, this option gives a mini freight-style listing for every package, including VAT and fuel surcharges. Simple doesn't always mean best, however. This option

doesn't

contain any information on when the package actually got there, and not knowing this could mean losing out on a refund.
The structure of UPS international invoices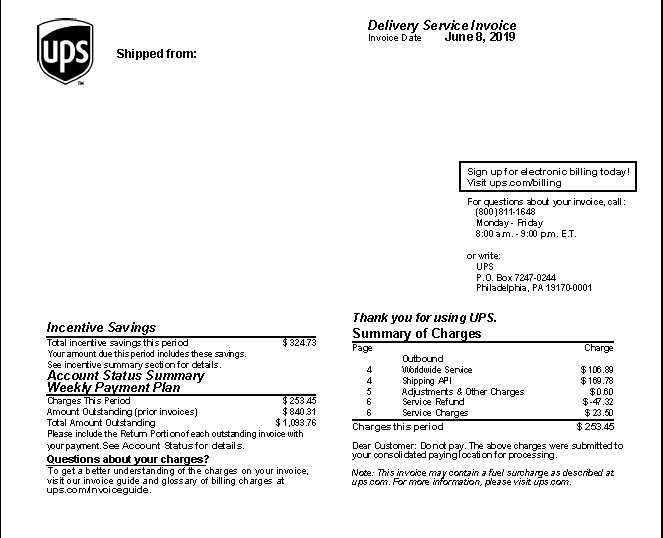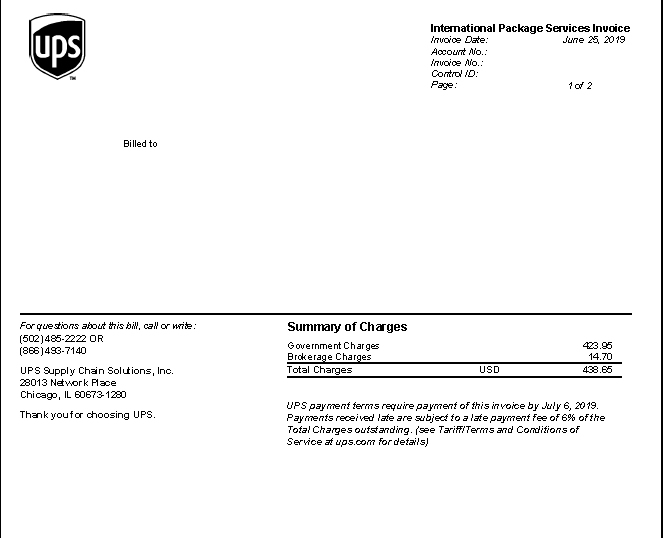 When goods are being shipped overseas, a UPS international invoice involves much the same information as a domestic one. There are a few key differences to look out for with international shipping:
Incoterms –

Incoterms

are used globally to define seller and buyer obligations in international transactions. They define delivery points, division of costs, transfer of risk, mode of transport, and the obligations of the buyer and seller. The "delivery point" is usually where the seller can claim payment, have no further shipment costs to pay, and have no further responsibility for the goods if they are lost or damaged after that point.
Harmonized Tariff Schedule –

Knowing this code could save on charges and fees as well as speed up the international shipping process.

HTS codes don't apply to every shipment, but those shipments that do have one will need to display it clearly on the invoice. More in-depth information on getting this right is available on the

USITC website.
Country of Origin –

Even when a company is shipping from the U.S., that wouldn't be the country of origin on a commercial invoice unless that's where the goods were also made. If that's the case,

this U.S. Certificate of Origin

should be attached to authenticate this.
It's a lot to take in. If a company finds that it needs reliable backup when handling shipping invoices, that's where 71lbs comes in.
Having 71lbs monitoring invoices pays off
The wealth of data packed into invoices could lull sellers into a false sense of security. So many metrics must mean everything is being watched closely, right? Wrong. Every one of those metrics is just another detail that could be incorrectly recorded (or omitted entirely), raising the possibility of delivery complications and unnecessary charges that could harm your company's reputation and bottom line.
71lbs specializes in going over each of your shipping invoices with a fine-tooth comb. We audit them in over 60 categories to ensure that we uncover any billing-related errors and capture all lost/late/damaged refunds and shipping discounts. Our insight not only eases your workload, we help our customers to better face the increasing logistical costs of operating and monitoring their supply chain as the expenses of shipping escalate.
At 71lbs, we uncomplicate the shipping process for our customers, making it easier and faster for them to access refunds and reduce their expenses. Our automated platform gathers all your shipping information into one easy-to-use custom analytics dashboard. Drop by the contact page to get in touch.