How do two of America's biggest carriers shape up in some of the country's most populated states? The answer reveals metrics driven by population, geographic location and simple financial commonsense.
At 71lbs, we enjoy great partnerships with over 5000 happy customers from all over America. These relationships provide a wealth of interesting data on the world of shipping which we like to pass along. From coast to coast, we've discovered some fascinating facts regarding who favors FedEx, who prefers UPS, and just what methods some of our most shipment-heavy states tend to choose.
Checking in on California
It's no surprise that our nation's most populous region generates some impressive shipment volume. The sheer volume of products coming out of California could qualify it as its own nation, and nearly 4 million small businesses call it home. Total shipments originating there in recent years were worth well over a trillion dollars and collectively weighed over 700,000 tons.
Of the more than 500 business customers 71lbs has in the Golden State, we see that UPS is the unanimous favorite for outbound ground shipments with a clear 90% share of those shipments.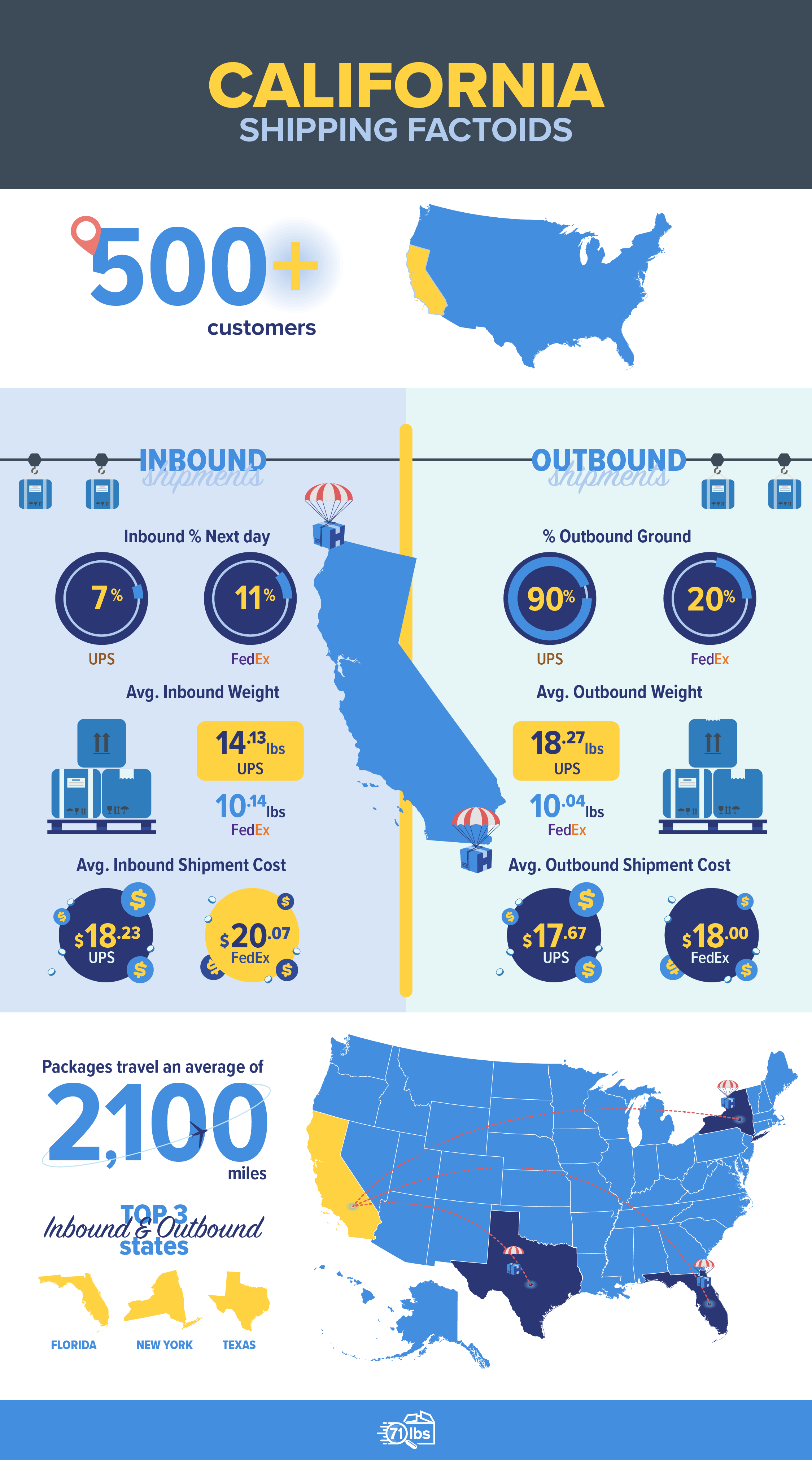 Our data really drives home how savvy Californian shippers are about price and how undercutting your competition even by a little can win a lot of customers. The average package weighs 18.27lbs with shipment costs through FedEx averaging $18, while UPS averages $17.67. Not much difference for a single package, but a huge saving over time if you ship as much as California does.
Inbound next-day packages see FedEx edging ahead of UPS with 11% of shipments versus 7%, but UPS still wins on price with an average $18.23 versus FedEx's $20.07. Californian goods travel an average of 2100 miles, so it's no surprise they tend to end up on the other side of the country. New York and Florida are two of the Top 3 inbound and outbound states with Texas completing the group.
Some New York knowledge
If any state had good reason to be angry with FedEx and UPS, it would be New York — certainly if you're a resident of the Big Apple. E-commerce is deluging NYC with 1.5 million deliveries a day and the two big carriers are causing more than a few logistical headaches for the locals.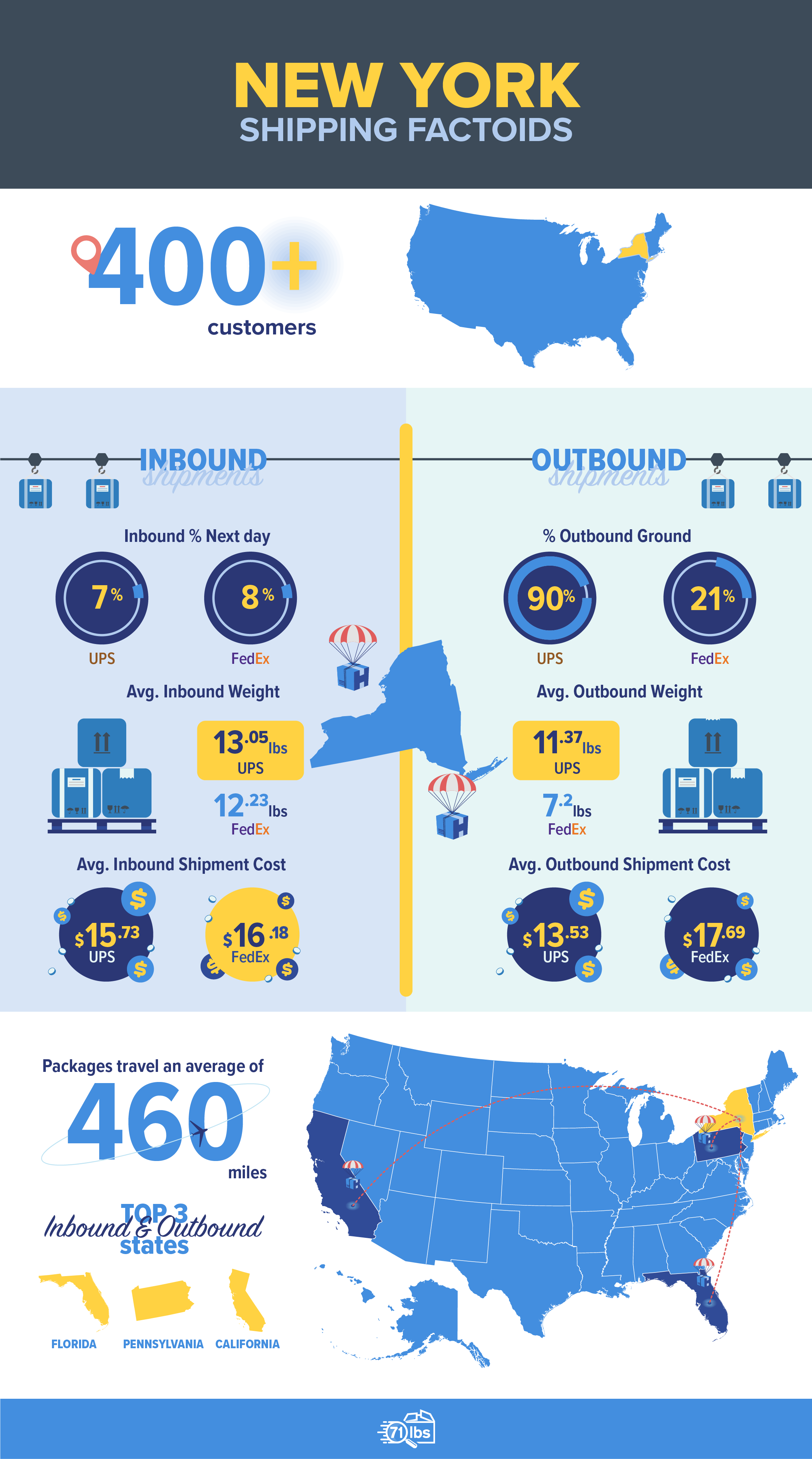 Like California, FedEx just edges out UPS for inbound next-day deliveries to New York with 8% and 7% respectively. Both instances are likely due to FedEx's operation of the world's largest air cargo fleet (at least somewhat reducing street-level congestion) while UPS's fleet of vehicles makes their ground service hard to beat.
The average cost of inbound shipments also mirrors California in that UPS is cheaper — $15.73 against FedEx's $16.18. This illustrates that residents of both coastal states are willing to pay a little extra to get packages in a hurry.
UPS has that 90% figure once more when it comes to New York's outbound ground shipments, with an average outbound package weight of 11.37lbs. Packages out of New York travel an average of 460 miles, with the Top 3 inbound and outbound states being nearby Pennsylvania, south to Florida and cross country to California.
Delving into New Jersey data
As the smallest of our 3 spotlighted states, it's no surprise the numbers are all lower there, but the patterns of preference take an interesting inverse turn. This time, FedEx is the carrier of choice for outbound ground shipments, beating UPS by a clear margin (48% to 21%) and UPS is the favored carrier for next-day deliveries.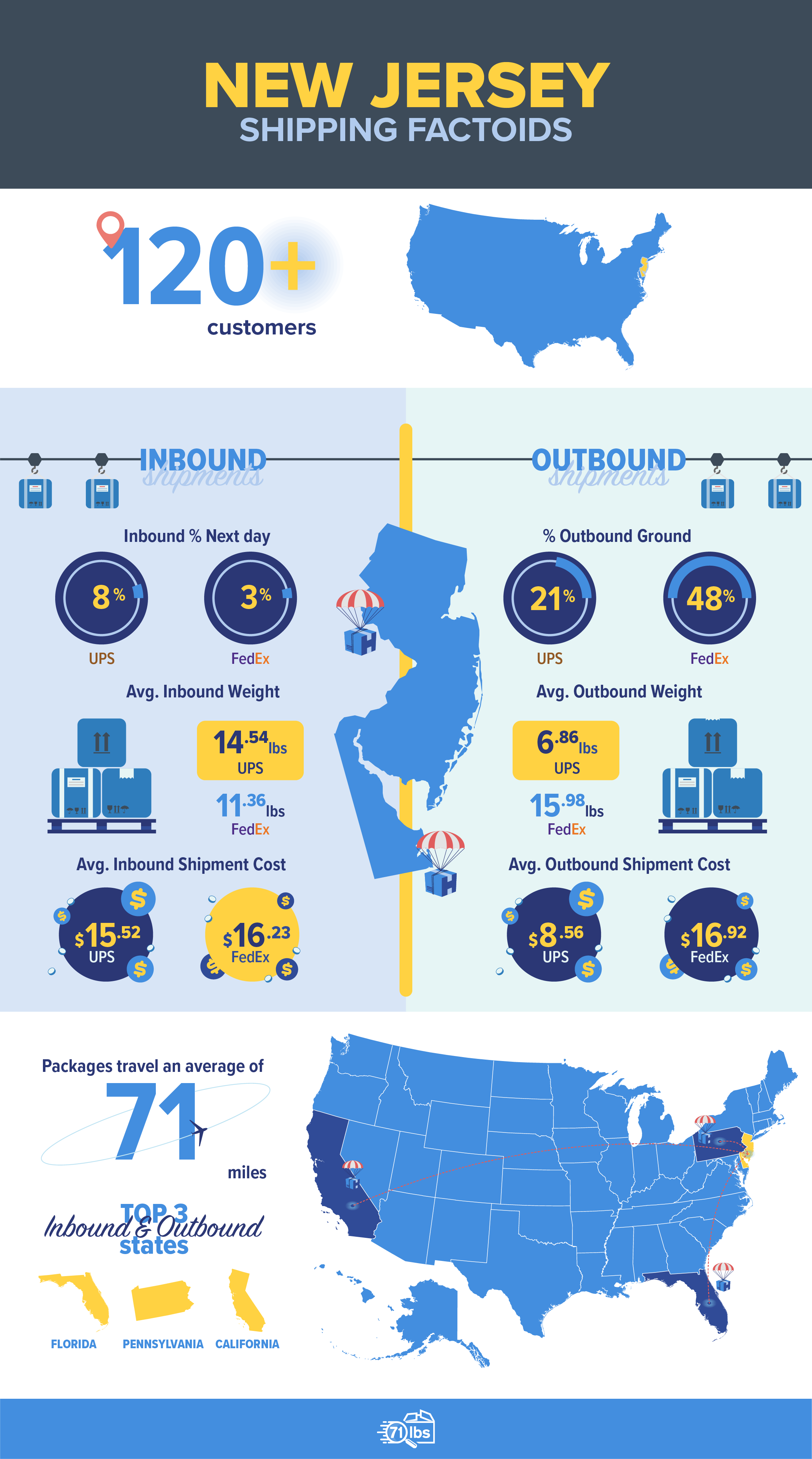 With UPS averaging an inbound charge of $15.52 per shipment and FedEx $16.23, it seems New Jersey ranks cost-effectiveness above getting things in a hurry. This spending attitude is also evident in their outbound shipment data where, even though the average shipment cost is $16.92 from FedEx compared to UPS' $8.56, it makes financial sense in terms of weight. The average outbound weight via FedEx is 15.98lbs while it's only 6.86lbs via UPS.
Generally, New Jersey packages travel an average of only 71 miles, yet the Top 3 New Jersey states for inbound and outbound packages still include Florida and California alongside its neighbor, Pennsylvania. How do they make it so far with such a small average distance?
Several factors influence the distribution of shipments originating in or sent to specific states, including the size of a state's population and economy, its resources, and geographic spread. The states in our data back this up since California, Florida and Texas are currently the most populated in America, meaning they'll generate plenty of demand.
In fact, every state our data spotlights, including New York and New Jersey, comprise the nation's most populous regions. That's why we made them our focus — to give our readers a glimpse of the bigger shipping picture that's everyday business for us.
It's our role to closely monitor shippers and make sure your business gets the most useful data. Connect with us to learn more about how we can clarify and improve your shipping process.
At 71lbs, we focus on two things: a) helping customers save money on shipping and b) helping customers understand their shipping costs. We provide you refunds and savings in shipping insurance, freight, and imports, among other expenses. Our automated dashboard displays easy-to-understand shipping costs and insights so you can make better business decisions. Drop by the contact page to get in touch!